Winter is in sight again. After the fleet review, it's time to make sure you also adjust your routes again for the first gritting action of the year - a job that always requires a lot of time and precision. Once you've done that, how do you ensure the gritter drivers are aware of these new routes? The solution: the RouteNavigation app from Jewel. Why? We explain that below.
Safe actions
Safety for road traffic, but certainly also for the drivers on the gritters themselves, is paramount in combating slipperiness. It is essential to ensure that drivers can drive their way flawlessly and safely. Convenience is, therefore, an important pillar in route navigation for spreading actions.
Knowing the right route
Drivers must be well aware of (adjustments in) their routes. Where should it be spread, and which particularities should be taken into account? With the correct instructions from the route navigation, drivers know exactly what is being asked of them. Drivers can also see on a tablet in the cab where they need to go and where they have already been. The chance that streets from the route will be missed is therefore small, helping to ensure safety on the street.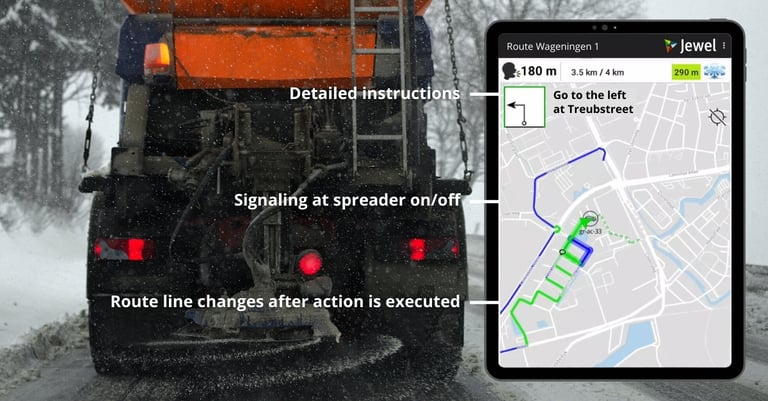 Switch quickly
Routes are easily and quickly loaded into the application on a tablet via an internet connection. USB sticks are therefore not necessary. This makes it easy to make changes to routes. Instructions can be added at places of your choice in the route. This makes it even more pleasant for every driver to drive correctly on spreading routes.
Curious how it works?
You now have an idea of ​​how the Route Navigation app from Jewel can help you and your drivers in the coming winter. Our product sheet lists everything Jewel Winter Maintenance can do.